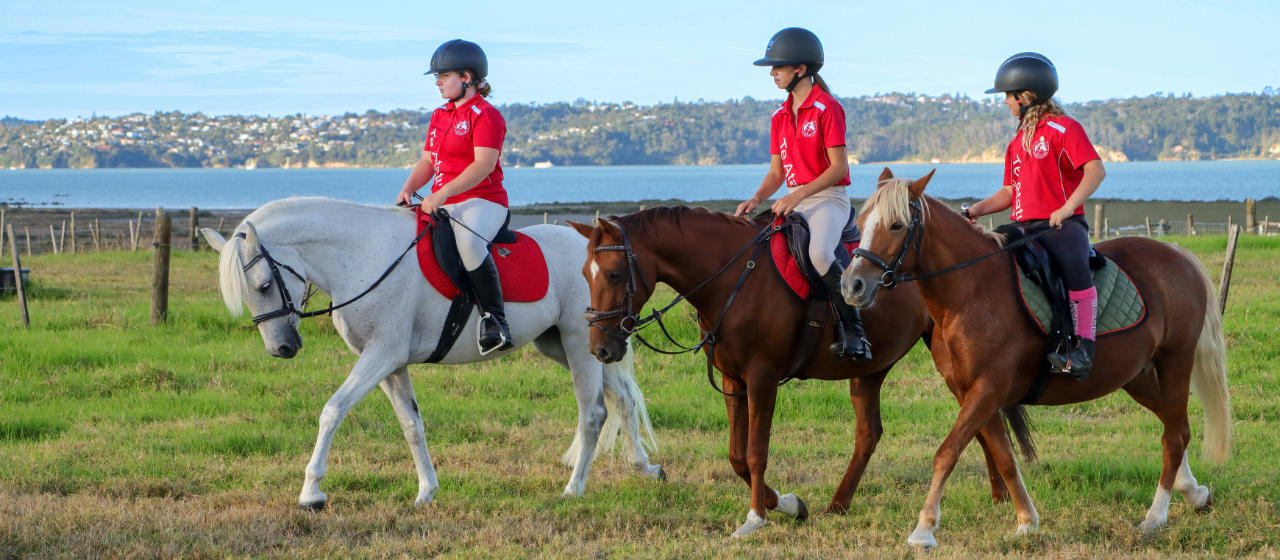 Show Jumping, Cross Country, Dressage, Beach and Trail Rides
Te Atatu Pony Club boasts an incredible array of options for riding and grazing in the heart of the city. We have a range of beautiful show jumps and fillers for riders training from cross-bar to 1.10m. Our cross country course includes rustic ramps, logs, spars and our brand new water jump, catering from beginners to a more advanced level. Dressage training takes place in our portable grass arena and we have the beach right in front of us for summer fun. Te Atatu Peninsula has a variety of trails we ride on, often chatting to friendly locals along the way.
Events and Outings
Te Atatu Pony Club hosts several events each season. From Show Jumping competitions, Show Cross Derbies, XC training days and more, Te Atatu Pony Club welcomes riders from all over Auckland to take part. Te Atatu Pony Club riders also compete all around Auckland and beyond. As part of West Auckland District Pony Club and Waitemata Rodney Area Pony Club our riders compete either as individuals or as teams.
Te Atatu Pony Club also likes to arrange different outings around Auckland – our horses and ponies love heading out to Muriwai Beach for a gallop, or visiting different sand arenas in the area for variety and training. We also get to use the grounds of our fellow West Auckland District Pony Clubs several times a year free of charge.
The Pony Club Season
The Pony Club season runs October to April (daylight saving hours) during which we hold weekly rallies at the club where the riders get together for coaching. Families might help out with some jobs and we enjoy a shared dinner.
October – April is also competition season and our riders will often head off site to fun ribbon days or local competitions.
Rally Night
Te Atatu Pony Club holds its rallies on Thursday night from October to April. Riders wear Pony Club uniform and horses are well turned out. Rally night is where coaching takes place and a rally can include show jumping, cross country, dressage, games and theory. Rallies run between 6pm and 7.30pm.
Parents are welcome to attend rallies and many families stay on for a shared dinner. Everyone is welcome and the shared dinner is one of the many special aspects of being part of Te Atatu Pony Club and often a highlight for the riders.
Coaching
At Te Atatu Pony Club we provide high quality coaching, development opportunities, and fun in a supportive and friendly environment. Horse and rider wellbeing is our priority.
Te Atatu Pony Club membership includes approximately 20 coaching sessions each season and coaching is divided into two or three rides. Rides are organised based on numbers and levels of riders at any one time.
Coaching covers the practical and theoretical basics of learning to work with your horse, establishing good flatwork and jumping skills and enabling riders to work towards competitions and earn their Pony Club certificates.
Pony Club Certificates
To ensure we provide a comprehensive coaching programme, Te Atatu Pony Club follows the NZPCA syllabus helping riders work towards their Pony Club certificates. The certificates are D, D+, C, C+, B, A and H.
Find out more about the NZPCA Certificate Syllabus.
Our Coaches
Sarah Bishell
Sarah brings a wealth of experience to Te Atatu Pony Club. She has been involved with horses and pony clubs across the Auckland region for the past 32 years. After a serious accident at age 17, she focused her efforts on coaching and developing riders of all ages and abilities. She has been a qualified coach with ESNZ and NZPCA for over 22 years. She is a qualified NZPCA C+ examiner. Sarah has also worked for many riding schools over the years and has run her own school, Diamond Lodge Equestrian, for the past 16 years. Diamond Lodge is the first and only riding school that is a centre member authorised to run its own pony club with NZPCA.
Kimberley Barker
Hi there! My name is Kimberley. I started riding when I was 9 years old, and I have over 15 years experience and knowledge living and breathing horses. I became a riding member of NZPCA in 2012. I joined Te Atatu Pony Club in 2017 and was a member right up until 2021 when I started coaching here. I started coaching in 2017, teaching private lessons and group lessons, to both adults and children.
I have a broad experience in the horse industry, from working with racehorses, to having fun doing liberty work using natural horsemanship. I have competed in showjumping, show hunter, dressage and eventing, some all the way to NZPC champs. My goal is to give you and your horse knowledge and experiences that will help you have a great relationship with your horse. And of course to have lots of fun while doing that!