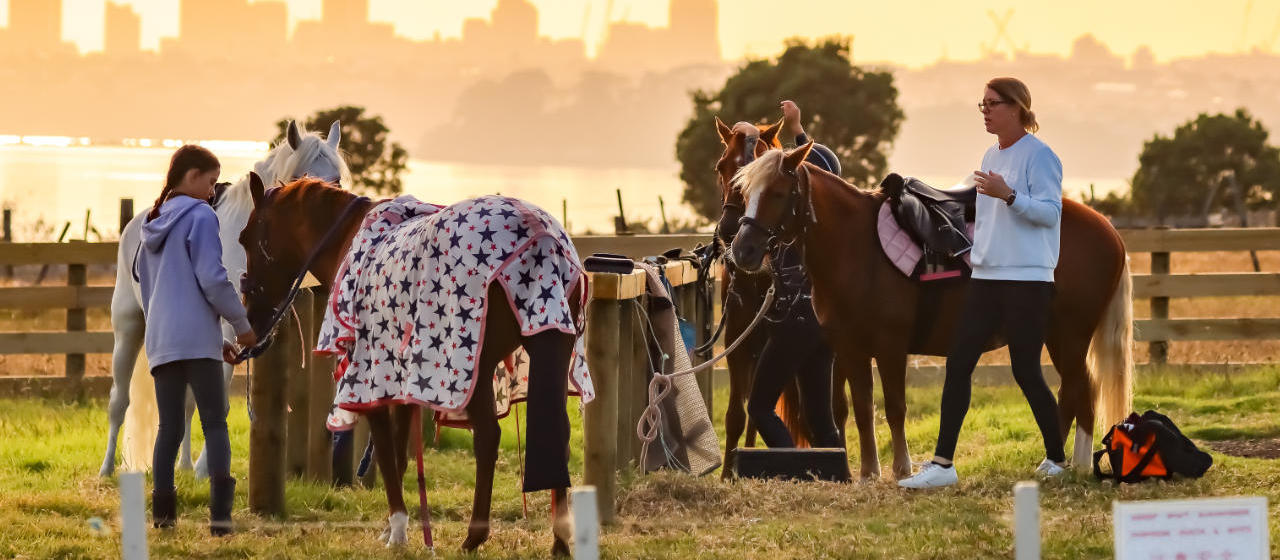 NEW MEMBERS WELCOME
New youth members are always welcome at Te Atatu Pony Club and we look forward to meeting you!
As a city fringe Pony Club, our members graze their horses and ponies on site. We can take up to 18 horses in small herds of no more than eight horses or ponies. We offer youth coaching in rides where coaches can focus on a small groups. Families are very much part of Te Atatu Pony Club and we all get involved to help look after the riders, their horses, and our club grounds.
Getting Started
We look forward to welcoming new members and are on hand to help you through the process. First, we'd love to welcome you along for a visit. We'll show you and your family the beautiful grounds, introduce you to some of the horses and riders and provide you with more information joining Te Atatu Pony Club.
Please contact us at membershipenquiriestapc@gmail.com to arrange a visit.
Looking for your first horse or pony?
If you do not currently own or lease a horse or pony, please do not hesitate to ask for support. We have lots of experience and we have many contacts in the Auckland riding community to help you. It can be a long process, but its important to find the horse or pony that will be right for your rider. You can choose to pay grazing fees for up to three months to secure your space. This will give you time to find and get to know the latest member of your family while being sure you have grazing for them.
Grazing Application
Once you are ready, please complete a Te Atatu Pony Club Grazing Application form. We will work with you to understand which herd would best suit your horse or pony. The Te Atatu Pony Club Committee will review your application and confirm if there is a suitable place available for your horse or pony.
Membership Application
Once you have grazing confirmed, please apply for membership. This is done via the NZPCA Nominate system. Please make sure you are familiar with the Te Atatu Pony Club Members Handbook before doing so.
Waiting List
Space for grazing on our grounds and in our rallies can be limited. If there is no suitable grazing or coaching space available, you can be added to our waiting list.
Types of Pony Club Membership
Te Atatu Pony Club is a membership organisation. We offer the following types of membership:
riding member under 18 (must be accompanied by an adult member)
riding member 18 – 25
adult member (parent or guardian) accompanying a riding member under 18 – every member under 18 requires an accompanying adult member
adult member (no association with a riding member 18 – 25)
All our adult members are part of the Te Atatu Pony Club Committee and all contribute to running the club and grounds maintenance.
More information about how Te Atatu Pony Club runs, and the rules and regulations you need to be aware of, can be found in the 2021 2022 Members Handbook.
Pony Club Membership Costs
| | |
| --- | --- |
| 2021/2022 Annual membership costs – these cover the cost of coaches for the under 25s and the levies we pay to our District, Area and National bodies. | Fee |
| Riding member (under 25 years old) | $370 p.a. |
| Adult Member (riding or non-riding. Needs to be 1 adult member per family with children under 18) | $30 p.a. |
| All committee members must be paid adult members. |   |
| Monthly costs | Fee |
| Member's grazing fees | $110 p.m. |
| One-off costs | Fee |
| Clubroom key bond (refundable on return on key and trophies) | $50 |
| Clubroom key (not refundable) | $15 |
| District badge (worn by under 25s on rally night) | $15 |
| Te Atatu Pony Club shirt – short-sleeved (worn by under 25s on rally night) | $65 |
For existing members of Te Atatu Pony Club
Existing members of Te Atatu Pony Club wishing to register for the new season should login as a Club Membership, and select RENEW MEMBERSHIP.
Don't forget you need to hand in your signed grazing application and terms & conditions for the new season:
2021 2022 Grazing Application –  Word  PDF
2021 2022 Grazing Terms & Conditions –  Word  PDF